Megan Fox at 2011 Golden Globe
The SuperMeet stage show aka FCP (or if **** hits the fan then iMovie Pro) preview begins at 7 pm.
---
for three weeks would send
Wow. You'd think a FCP Users group would be able to track down a halfway decent graphic artist to make their banner graphic...

Aww, give them a break, they're probably just trying to keep with the 90's design of the UI. :D

Honestly, the website totally sucks. Looks like a get-rich-quick advertisement site. They might be FCP pros, but they know amateur HTML.
---
megan fox 2011 golden globes
JohnnyQuest
Apr 7, 11:09 PM
I really hate Best Buy. But unfortunately, there's no Apple Store in my town.
---
megan fox 2011 golden globes
Doesn't really matter, Best Buy is going the way of Blockbuster and Borders anyway. They will be gone within a few years, once all their media turns digital.
---
megan fox 2011 golden globes
What OS will the iPhone be running? :confused:
If people want a Treo replacement, you are going to have top consider whether:
1. calendar - hopefully you can port over Palm to iCal
2. contacts - to Mail/Address book
3. will there be a keyboard - personally I send a lot of mail/texts so would want to keep the "thumb-board" ;)

I think the device is likely to be iPod based (the underlying OS can handle a lot more than audio and video playback i think).

I'd love some thumb board capability but nt at the expense of size. If this thing is a brick it's not gonna work out.
---
megan fox 2011 golden globes
fenderbass146
Apr 8, 12:51 AM
I am in the Geek Squad at a Best Buy, and at least at my store there is no such thing happening, nor have we ever been instructed to tell a customer that we don't have a certain product, unless it's unreleased such as new movies etc,,, but once something is released, if we have it we sell it.
---
4 of 14. Megan
:eek: :eek:

What's planned after that? 16 cores on a chip? Seriously?? :confused: :confused:

yeah, who would've thought we're having quad core 4 years ago.
---
megan fox 2011 golden globes
Bill McEnaney
Apr 29, 09:34 AM
Presumably because the sources are "too numerous to mention". Can't you read? :p
You'd expect the article to cite some studies when Fr. Martin's article says that those studies are too numerous to mention. And let's not forget the hint of potential bias I noticed when I read that the cited article's author was a "gay affirmative therapist." Have you guys read the undoubtedly objective reviews that Donald Trump's employees write about their boss's business savvy? :)
---
megan fox 2011 golden globes
840quadra
Apr 27, 08:48 AM
Did you read ANY of the news articles.

With location services turned off, this data was still be collected. And Apple says this was a "bug"

So you're wrong.

Regardless,

Carrying any type of wireless phone (even so-called dumb phones), and expecting to have no chance of being tracked, or logged in some fassion is a bit closed minded.

Because, despite how Apple excel at so many things, when it comes to handling user (quality or privacy) concerns like this, they suck.

Look at their responses to the iPhone 4 antenna issue:
"You're holding it wrong" - Blame the customer.
'Every phone has the same issue' - Our phone is bad, but no worse than anyone else's
'Let's change how the signal bars are displayed' - Let's hide the problem.
'Let's give a bumper case with the iPhone' - Let's offer a solution to some users, to get them off our back for a problem we used to deny even existed.

I'm not even saying the antenna issue was a serious problem, but Apple's dismissive attitude is only throwing fuel on the fire. If they had tackled it quicker, it would be never have been newsworthy.

It's great that Apple are addressing this (location) issue much quicker, but still it only is happening after they initially denied there was any issue, and waiting for the furore to grow before acting.

Agreed, Apple is a bit too good at putting it's foot in it's own stem.. I mean mouth. :o
---
megan fox 2011 golden globes
LethalWolfe
Apr 10, 08:30 PM
When this hits it's going to piss a lot of people off.
Or make a lot of people happy. Either way everyone's going to be paying attention.


Lethal
---
megan fox 2011 golden globes
Benjamins
Mar 31, 02:43 PM
You could say the same thing about Apple though. The Apple fad will go away and the extremely closed ecosystem which seems to not be really developing much in terms of UI or having an actual roadmap could end iOS.

I don't understand why people can't just see the pros and cons of both and accept both are great platforms. Its always a WAR with Apple fans. Apple against EVERYONE!

If Apple FAD goes away, where will Google copy from next?

You are delusional if you think Google is not building upon the Apple FAD.
---
megan fox 2011 golden globes
epitaphic
Aug 17, 12:54 PM
The interesting thing to note from the Anandtech review is that to saturate a 2 core setup, all you need is one program. To saturate a quad, you need to be doing a bit more at the same time. To saturate an octo, you need to be doing a hell of a lot of things at the same time.

Now I don't know bout you lot, but there's only so much I can do at the same time. Sure it helps to be able to run anything I like and still use FCP with no performance hit. So I think a quad is perfect for that. But when it comes to 8+ cores, your actual workflow won't improve in the slightest unless it doesn't involve you having to do anything (eg run 4 instances of handbrake). I'm sure everyone once in a while has some work that can just be delegated to the CPU and it does its thing, but for the most part, where your attention and brain is needed, an 8 core will sit at least 50% idle.

Considering Clovertowns will have a slower, twice saturated FSB and lower clock speeds, most people will be better off (financially and productively) with Woodcrests. I'm just hoping that when octos are announced, the quads will drop in price.

Now if they start to optimise apps to take full advantage of more than 2 cores, that's a whole different ballgame ;)
---
WORST TATT: Megan Fox
Damn PowerPC fans.

Apple is INTEL now. We Love Intel Because Stevie Tells Us So.
We hate AMD and IBM. Should Apple ever move to another CPU provider, we will seamlessly transition to hating Intel again. This is the Way of the Mac.

What's so good about G5's anyway? They are slow, too hot, and skull juice.
Why do we love Intel? Because Steve says to, and Core 2 Duo is powerful, cool, not permanently drunk, allows us to run Windows and helps Apple increase its market share.

We love ATi because just like Intel, their products are the best at the moment. We still love nVIDIA because their GPUs are in the Mac Pro.

We love Israel because they make our Core 2 Duos and we love China because they make our Macs. We love California because that's where Our Lord Stevie J is (Don't particularly care about the rest of the US, sorry guys).

We love our Big Cats because they run so fast and look so clean and powerful (Hmmm... Mystery of OS codenames revealed?) and of course because they are not Windows, which are susceptible to breaking...

People who live in Windows shouldn't throw Viruses?

Off track...

Anyway, Rawr to all you PowerPC fanboys (And girls)

Intel 4EVER!

I know this is just a joke, but even so it's stupid, because the implication is that the only reason anyone here might like the chips Intel is coming out with is because they have been brainwashed into liking them now that Apple uses them (i.e. if Apple was still using PowerPC chips, or had switched to AMD, we would all be sitting here talking about how crappy the Core 2 Duo chips are).

I'm sure there are some people like that, but it is insulting to plenty of people here who actually do know something about the various chips that Intel and AMD make and base their opinions on them just on their actual merits and weaknesses.

-Zadillo
---
Dress Golden Globe 2011
I can't see this standing up in the EU - it would be knocked down at first attempt in the European Court I'm sure.
Whatever, if someone with no Universal Music on their iPod wants to I bet they'd be able to cause a stink by asking for the 'tax' back.

I'm surprised no one's sued Universal for libel since the 'all iPod owners are thieves' thing.
---
megan fox 2011 golden globes
Don't hate. I have money and I can spend it however. Maybe I'll buy an ipad and leave it in the bathroom for people to use as they're taking care of business.

Upper Middle Class FTW!
---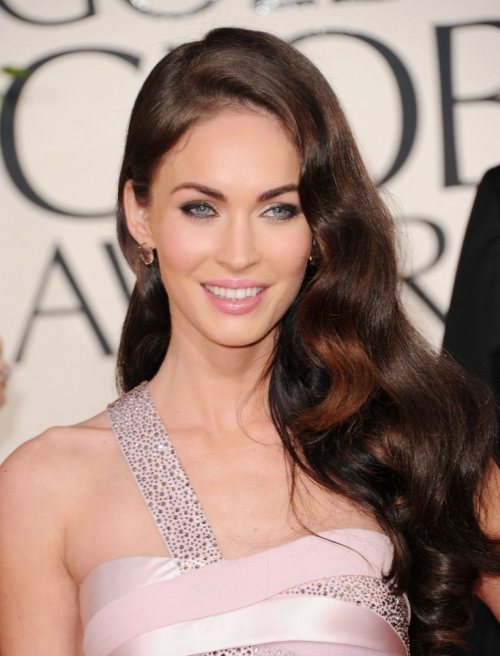 Megan Fox in hairstyle makeup
MrCrowbar
Jul 20, 06:16 PM
Nobody will ever want to use an Xserve on their desktop, and nobody setting up a compute cluster will want to build it from desktop boxes.

Hehe, I remember Virginia Tech having built the 3rd fastest supercomputer out of 1100 dual powermacs G5. Back then, the XServe G5 wasn't available. You can see that in the MWSF 2004 keynote (minute 25 ff). They later switched to the Xserve G5 when those came out. It had 10.28 TF for just $5.2M.
---
megan fox 2011 golden globes
n-abounds
Sep 19, 12:31 AM
-- How about some new textures for the case, such as brushed copper? I think that would look sharp.

The day Apple makes a copper computer is the day it goes out of business.

Seriously DONT GET THAT COMPUTER WET. Leave it inside if it's humid out...:D

I don't want my computer looking like the statue of liberty.
---
megan fox 2011 golden globes
Evangelion
Sep 13, 07:42 AM
A bit pointless given that no software utilises the extra cores yet. But nice to know, I guess.

Most people run more than one app at once.
---
Megan Fox VS Vanessa Hudgens!
I went ahead and bought my MacBook Pro because I can't do my schoolwork without a laptop. So, I'm really not paying much attention these days about future announcements :)
---
BTW, apparently this site is doing live blogging:

http://www.finalcutmtl.org/2011/04/10/supermeet-live-sur-final-cut-mtl

That's about all I could find.

And for you english-only forum members, here's the translated version:
http://translate.google.com/translate?hl=en&sl=fr&u=http://www.finalcutmtl.org/2011/04/10/supermeet-live-sur-final-cut-mtl&ei=rsmkTfiKLsL-rAHd44WGCw&sa=X&oi=translate&ct=result&resnum=1&ved=0CCEQ7gEwAA&prev=/search%3Fq%3Dhttp://www.finalcutmtl.org/2011/04/10/supermeet-live-sur-final-cut-mtl%26hl%3Den%26safe%3Doff%26prmd%3Divns
---
:eek: :)
I hope it is released sooner than later. My Z500 only has about a month of life left in it....
---
NoSmokingBandit
Aug 18, 12:55 PM
http://www.andriasang.com/e/blog/2010/08/18/gt5_date_and_blue_ps3/
New pics and stuff.
An official feature list is nice too:
11thIndian
Apr 9, 08:24 PM
Glad you realize it was wrong to put those words in my mouth "lots of professionals I know".

Uh, no. I do think that's what you meant. That's just not what you said.

Just because lots of people you know, plus a couple of people on these forums say that they've switched, you can't generalize that into a broad statement that covers everyone everywhere. It might be a localized trend in your area. Just like I can't say that just because none of my clients has switched platforms, that there's NO migration off FCP to AVID or Premier.
---
shrimpdesign
Aug 7, 05:52 PM
I'm sure I'm not going to hate it, it's probably gonna be fabulous, but it's not an innovation as Steve advertises it. In fact, not a single thing they showed about Leopard up to now is an innovation. Everything already exists somehow. I'm not complaining about the new features of the OS, but about how they present them. They're all (hopefully) improved versions of existing stuff!!
Innovation isn't creating new ideas, but improving them.

For instance, Spotlight searching wasn't new. BeOS had something similar. But Apple improved it and integrated it into their OS.

See, I have Virtue desktops. I've tried Desktop Manager, You Control: Desktops. But they're all just hacks. Spaces looks mcuh cleaner, simpler and elegant than any of those. That's what I expect from Apple, and they did not let me down.

As for Time Machine, no the idea is not new, even for Microsoft. But Apple is making it simple. Easy enough for mom and dad to use. Personally I think having a wormhole-space interface is kickass.
---